Posted by Andrew | Filed under A Farewell to Authority, Breakfast in the Ruins, Commentary, Computing, General, Gripes, How-To, Odds and Ends..., Uncategorized
With all the little issues and niggles I am having lately with our first official online session, it has been hard to do much of my own online stuff, so I decided to do a series of brief introductions to alternative social network platforms.
Hi again everyone,
My attention was grabbed today by a link on Gab (of which more in a later article) to a piece over on ZDNet about MeWe, so that's as good a place to start as any… I have been on MeWe for a couple of years now and it really seems to be a place where anything goes, which is fine with me.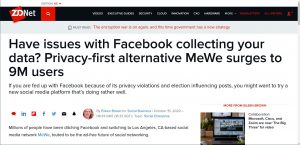 https://www.zdnet.com/article/have-issues-with-facebook-data-collecting-privacy-first-alternative-mewe-surges-to-9m-users/
It has a typical three-column interface which (in its basic form) is rather bright, but the good news is that they will sell you a different skin for a couple of dollars. I don't often spend money on social web sites, but after a few months on MeWe, it seemed like a good idea, and I have never looked back.
You have completely free speech here plus 8Gb free storage. They are constantly asking you to upgrade when you log in, but I am ignoring this (for now).
A point to be made here is that many of the people you know from FB are already on here, "just in case". If not, perhaps you could persuade them?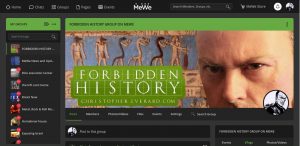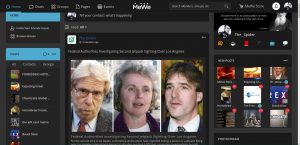 You are invited to MeWe: http://www.mewe.com/i/andrewholmes2
You can also see MeWe on FB: https://www.facebook.com/mewenetwork/
Posted by Andrew | Filed under A Farewell to Authority, Commentary, General, How-To, Uncategorized
I'm not going to spend much time on this because I have had a surprisingly tiring week even though we had a day off on Wednesday for Independence Day (1). I have four new bookcases due for delivery about midday tomorrow (which is thankfully a Saturday) and would like to spend as much time between now and then examining the backs of my eyelids, because a big cleanup and rearrangement of my apartment plus necessary job-related work will be keeping me busy.
Having said all of that…
We find ourselves in the middle of what appears to be a Silicon-Valley-sanctioned take-down of a number of personalities online. The reasons we are being given are clearly spurious, and the results may be catastrophic for those taken down. However, I feel that there is an important point to be made here; several points, possibly.
The first point is that accounts are being taken down from what appear to be (in their most basic forms) free sites for which (at the beginning) no levy was made by the service provider and which the account owners may eventually have developed into something lucrative as it became possible for them to receive remuneration. Names such as Facebook, Twitter etc. are being mentioned. More advanced arrangements are different, of course, because of their scale (the particular case of Alex Jones springs to mind here).
Second point… quite apart from the fact that many of these platforms are on the skids anyway, why is everyone complaining about being suspended or banned from their services? Have you not done some research and found other platforms like MeWe, BitChute and Steemit? Even more importantly, have you not examined the options for self-platforming, the better to avoid these things if you are not looking for remuneration but just want to express yourself? I've been doing this for five years now. The cost is not great and there are plenty of free add-ons that you can use. Why worry about whether FB and the like approve of your viewpoint when you could have a platform of your own? I pay sixty Singapore Dollars per annum for the right to express myself, with other add-ons like free fora and chat rooms for no extra cost. The sad part? Despite repeatedly stating that I have made these private spaces available for people to use, and from which (at least within reason) they are far less likely to be cast out on their ear, they don't make use of them. There seems to be an element of psychological dependency involved here. Or is narcissism for free more important to you?
If you don't agree with your chosen platform's attitude, you're a fool to stay with them when other free or paid alternatives are available, and since those alternatives are available, what is it that keeps you there like a frog in a hot cooking pan? What are you afraid of? You could start up your own blog, fora and social web site as well as e-mail, chat site etc.
Hint: go beyond your comfort zone, look for your own platform. You could start at a place like https://www.singaporehost.sg. They have everything you need. Just choose a nice-looking WordPress site template (like I did), pay your annual subscription (about ₤40.00/year) and start blogging. Look at the services available in your cPanel and add them. But don't complain about the cost. If you like to go out regularly for a drink, if you waste a lot of the food you buy and then do not eat or if you drive a lot, those can only be false economies at best and you have better things to do with your time and money. You also get private e-mail and all kinds of other things at no extra cost (unless you decide that you want more).
I express my attitude here at http://www.myeasternhorizons.com/wp/ (among others). I also have presences at (for example) the Vivaldi browser community (again, a free platform, better than its predecessor at Opera, and 5Gb of free e-mail account!!!). Dig into my blog to see my involvement with both of them historically. My personal blog there costs me money but I could have five times as much server space and not bat an eyelid, financially, each year as one year's subscription to a 5Gb disk space (and unlimited bandwidth) would still be less than one month's winter gas bill here in Korea. I kid you not. Do not complain about false economies!
Understand that there are elements of both false economy and hypocrisy involved not only in the deplatforming of established users but also in not voting with your feet because you are too cheap and lazy to platform yourself and tell your existing platforms to go take a hike. There, I said it.
Remember, as long as you stay with them, they own your opinion and control it.
What are you afraid of? I've done it, and so can you, so bite the bullet.
1: Independence from Japan at the end of WWII, that is…
Posted by Andrew | Filed under General, How-To, Odds and Ends..., Uncategorized
Saw this on Yahoo this morning and the scales fell from my eyes… just goes to prove you're never too old to learn something new!
Posted by Andrew | Filed under How-To
Instructions as to how to get yourself entry to my private chat room…
Following my recent posting at Facebook, here is how to log yourself in to a private chat room on my personal server:
1: E-mail me to let me know that you would like to use the service. Include the username that you would like to use.
2: Wait… I'm a busy boy.
Users cannot subscribe themselves to this service: it's private, and I am the administrator – meaning that I also have to allocate a unique strong password to each member. This is a manual process.
3: Navigate to http://myeasternhorizons.com/ajaxchat/, where you will be confronted with a very simple, plain login page:
4: Enter your username and password, then select "Public" or "Private" channel.
5: Choose your language.
6: Click on "Login". You will be presented with a chat page like this: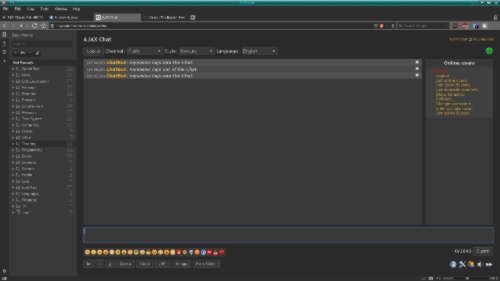 7: Chat with other members for as long as you like.
8: Log out link is on the right hand side.